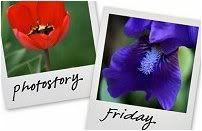 Hosted by Cecily and MamaGeek
Snow with ice on top, what a lovely combo. Yesterday we woke up with the most beautiful white topped with the most shiny and glistening ice. I wanted pics, of course. I trudged out to the trees to get some of the ice covered limbs and skipped and skidded the entire way. Luckily I didn't drop my camera.
So I go in and call it a success. Today, ice still on our driveway and deck. I grabbed my handy shovel and started trying to chip away at the frozen tundra. I must have looked like a real fool sliding all over the place. It would have been easier if I had my old ice skates. But I didn't even make a dent. However, I did clear the deck steps so that I don't have to carry the stupid dogs each time they want to potty. But I captured one more of my patio table while I was at it.