This poor blog has been seriously neglected since I have been working on my Project 365 and my new Biz Website. So to those who still read this lonely blog, you can see much more activity from me in these places:


The Gaggle Photography Website
The Gaggle Photography Blog
Gaggle365 Project

Please bookmark the other two blogs as well.

But don't go removing this blog from your readers just yet, I still plan to keep it (and try my hardest to update it) and post family events and pictures.

So, without further ado, here are some lovely photos from our recent trip to the beach.



Our first night we took in a stroll on the boardwalk.



My son figures out that waves are used for more than just jumping.



Playing at the beach by the bay my baby found that starfish were very ticklish and hermit crabs are kinda ugly up close.



The older daughter collected rocks while the younger daughter copied her, as usual.



It was a good long weekend and they needed a rest.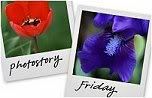 Hosted by Cecily and MamaGeek