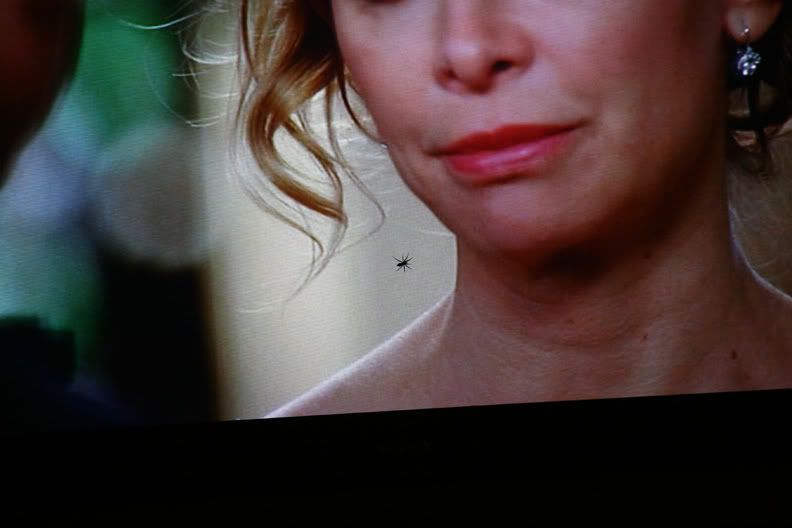 About two months ago, hubby and I were chillin' downstairs watching our big screen (as we do every night after the kids to go bed) and we noticed the biggest creepy crawler we've seen in a while going across the screen. Hubby immediately jumps up and grabs a wad of tissues and attempts to swat at the TV to crush large man-eating spider. Just as he gets to the TV, it crawls off the screen and out of sight. We look on the floor and behind the TV for a while with no luck. But of course we were both freaked out by the size of this monster spider that we hesitantly sit back down and continue to watch. Mr. Spidey didn't return. The next night, Mr. Enormous Hairy spider reappears to interrupt our TV time once again. The wad of tissues still by the recliner, Hubby jumps up again to fight with eight legs that look like they could swallow him whole. Running up to the TV, careful not to totally knock it off the stand, the spider manages to crawl out of sight once again. We scratch our heads and wonder how we could have missed such a large spider vanishing into thin air, until it hits us. Mr. Home Invader is INSIDE our TV! What a sly and cunning spider to be sitting there, mocking us making us look like the idiots. Acting like a dog chasing around a pen light trying to bite it or a cat following the cursor on a computer screen, hubby and I look like crazy people trying to chase this large, crawling spider across the glass wondering why we cannot catch him.

So this game goes on for a while, spider appears we say, "Hey, it looks like he is on the outside this time", only to jump up and be fooled, yet again by our oh-so-smart TV guest. Mr. Spidey is probably a very tiny sole but since he is being projected on the face of our TV screen he of course looks like he is the size of our dogs.

Then it becomes a game. Odds have it that when spidey appears, my camera would be way upstairs.
Hubby: "Look there he is right in the middle of the screen".
Me: "Crap, my camera is upstairs, think he will sit there while I go get it?"
Hubby:"Dunno" and goes back to reading his computer.
I consider running up and down the stairs to grab my camera while I try to judge how fast he is moving and usually say, "Ah, screw it, be right back". When I get back downstairs, out of breath and ready to pass out (need to start exercising again) I say to hubby, "Well, he still there?"
To which he usually replies, "You just missed him".
Me: "Crap!"

Until last night. He reappeared while we were all comfy on the couch. I played the above scenario and ran to get my camera. Of course he was gone when I returned but 10 min later, he decided to show off and sit on the screen long enough for me to snap this first shot of him while watching "Brothers and Sisters on our TiVo". This unimpressive shot makes Mr. S look real tiny since he seemed to be walking on the glass of the TV instead of being projected 5x's its size.

We often wonder how long he can live in there. What's he eating? Has he spun tons of webs? What about babies...ugh.

Does anyone know how to get a spider out of a TV??