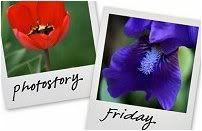 Hosted by Cecily and MamaGeek
My little man a kindergartener no more. Today was his end of year ceremony. I cannot believe how fast this year went. I am so proud of his accomplishments in these short months in reading and math and his overall maturity level. When the kids first came into the cafeteria-turned-assembly room I had to crouch into the walkway to catch a shot of my first born (he is always at the front of the class sitting on the floor as he is a full head smaller than all of the other kids in the class) as he spots me and allows me to great a shot of him through the media cart with the CD player and projector on it. Isn't he so cute (of course I have to say that) and tell me he doesn't look old enough to be a 1st grader. And par for the course, I cried through most of the ceremony and especially the slide show. Why did they have to play country music??
And an extra shot of him on the playground at our K picnic.
After the show was over we were allowed to take him for early dismissal. We went home and Hubby went to work. Z and I hung out in my office at home while I did some work and he played on the computer. As we went to get his sisters, he told me that he really loved spending the day with me. What a sweetie. I hope he always loves his mama and doesn't turn into a difficult teen!