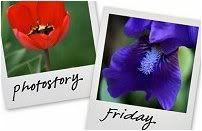 Hosted by Cecily and MamaGeek
I recently bought some studio lights. I had literally one nanosecond before the kids melted down and refused to sit still for me to play. I really need some more cooperative
victims
models.
But I have to say shooting in a 'studio' is really fun and challenging. I just need to get the hang of light placement. So if anyone has any tips for me, please feel free.
Oh and I have had a bunch of people ask me for a lighting tutorial, so I promise I will get to that real soon.
I'm not all that great at BW conversions so I am practicing.
Handed the camera to the 6 year old son to grab this one. He did great.
Look at those big browns.