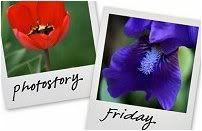 Hosted by Cecily and MamaGeek
This can be a tough time of year for those of us who do not celebrate Christmas. The lights, the songs, the santa its all much fun for the kids. My son is getting old enough to understand our heritage and the fun of Hanukkah. My daughter isn't there yet and is very into the Christmas this year. So we have been talking about getting Hanukkah gifts, lighting the Menorah and playing dreidel. I wrapped and put out each of the kids 8 gifts so they can see them much earlier than I normally do to get them excited. But I also wanted to do something else festive for the kids. I bought this Star of David light in a beautiful blue and hung it in my window above my electronic Menorah.
Its so beautiful hanging in my window. Even the baby liked to play:
My daughter is getting excited to open her presents. But we still love driving around and spotting Santa and Reindeer and beautiful twinkle lights.