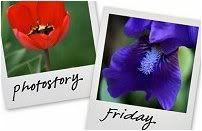 Hosted by Cecily and MamaGeek
I was asked to take some shots of my youngest in this Dolly Dress by my Mother in Law. She bought this dress for my oldest daughter when she was around the same age as Miss V is now. She wanted to get shots of Miss E so I suggested she take her to one of those Mall places for some studio time. She did and has the photos on her wall. Well, now that Miss V is the same age as E was when she had those shots done, she naturally asked me to take some pictures of Miss V in this same dress. As I was going through the little photo shoot and realizing just how hard it was to photograph a 16 month old I reflect back on the photos that my Mother in Law has of Miss E and remember that those photos were like pulling teeth as well (which is why I told HER to take her to the Mall). Therefore, I conclude that its not the behavior of my girls that makes taking their picture so hard at this age, but in fact, This Dress.
I am not sure this is what my Mother in Law wanted to hang on her wall. I guess I will try again for some better shots.