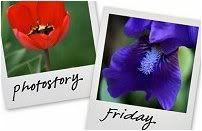 Hosted by Cecily and MamaGeek
After the bath last night I asked my middle daughter if I can take a picture of her in her new lion towel. I thought these were way cute when I bought them and I have been meaning to take a picture. She said to me, "Yes you can, but first mommy, I need to wear this necklace". She took off her towel, put on her necklace and proceeded to pose for me.
What kind of teenager is this one going to be? I am scared.
Oh and here's a shot of the little man in his alligator (not a crocodile) towel. I always get this face. Why won't he sit still for a second...oh right, he's a boy!