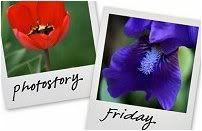 Hosted by Cecily and MamaGeek
When was the last time you had a ball with a plastic lawn mower and a ball popper.
What timing to catch them both doing the same thing at the same time in the same shot. Its funny someone thought I cut them and Photoshopped them into the same frame, but it was really a total fluke. Maybe not the best shot since I should have gotten better focus, but it so captures the essence of being a child.