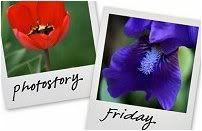 Hosted by Cecily and MamaGeek
I am cheating this week and digging into the archives as a precursor to week ahead of us. Here are my two oldest, taken two years and two months ago at the beach.
Miss E is about the same age in these pictures as Miss V will be on this upcoming trip.

She wasn't all that thrilled with the water.

Mr Z, on the other hand, loved it.

With all that said, we head out tomorrow for a week of fun in the sun at the beach, with three small kids in tow - Oye Vey. I wonder if Miss V will hate the water as much as Miss E did? Mr Z will love the water as much as he did two years ago. I'm sure it will be fun and stressful so wish us luck! Hope everyone has a wonderful holiday weekend.