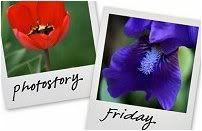 Hosted by Cecily and MamaGeek
This picture should really say it all:

I had forgotten about the Three's. Where did my sweet little girl go? Who ever came up with the "Terrible Two's" must not have experienced three yet. She is really trying to test me over and over again each day. I get that above face when I even mention bed time. Then the screaming, the yelling and the crying starts. I realize she wants to learn how to be independent and I am willing to help to some degree, but I hate it when she won't let me to ANYTHING to help her and then of course it takes forever for her to get her socks on. I know she will grow out of this stage and during some of her episodes she can be quite cute, but wow, its been a struggle. I just want my sweet girl back!