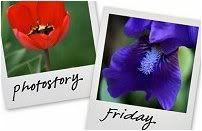 Hosted by Cecily and MamaGeek
My son for his 6th birthday asked and received a
butterfly garden growing kit
. I loved the idea cause, well, I like watching things grow and change and I thought he would love it too. I filled out the little form to send in to receive our caterpillars and realized that this summer, with camping and vacations, was very full of us not being home for long stretches at a time. However, I picked this past week for us to receive the larvae and start the process of growing our butterflies. As instructed by the form where it specifically said "When would you like us to send your butterflies", I wrote Aug 18th which was the day we returned from our last camping adventure. I mailed in the form (In July) and said to myself that I was happy with that resolution.
One week later, we received, not one but TWO containers of larvae caterpillars. Oh crap. Now what? We have caterpillars to take care of but we plan to be gone for two camping trips in the near future. What to do? So hubbs calls the company to complain, "Why do you let us pick a date to have these shipped if you were just going to send them right away", "I would have just waited till we were back in town". To which they replied, "We are very sorry we will send you more on your requested date". Uhh, ok. So in the meantime, what do we do with these 10 soon to be butterflies that we are going to miss parts of their lifecycle.
So we watched them munch on the food they had in their container, we watched as they built their cocoons and then we transfered them to thier hatching habitat to wait till they became beautiful butterflies. However, no butterflies 'hatched' before we left for our last trip. We gave the dog sitter neighbor girl instructions to release them into the wild if they were to hatch before we came home. On Monday, all but 1 butterfly emerged and was released. There was one lone cocoon left. We decided to let it hang a few more days to see what would happen. Then on Wed we got to see the fruits of our labor (which wasn't much work on our part) and we came home to one last butterfly flittering around in the habitat. We kept her for 24 hours and gave her some fruit, which I don't think she touched, till we decided to let her go find her family in the depths of our yard.
Now we are onto round two with 5 more caterpillars that arrived on Monday of this week. Honestly, I think I enjoyed it more than the kids did.